Student Activities
Students are encouraged to develop their interest and explore their potential through joining different extra-curricular activities, some of which are outsourced to professional instructors and coaches, such as all instrumental classes and various school teams.


A. More than forty ECA activities are offered, including


.School Teams like different sports teams, the Chinese and English Debate Team, the School Choir and the School Orchestra;
.Academic Groups like the Master Maths and the Chinese History Club;
.Student Association Affiliated Clubs;
.Interest Groups related to art & craft, astronomy, calligraphy, drama, home economics, music, movie appreciation, STEM, etc.;
.Religious Groups like the Christian Fellowship and the Worship Team;
.Uniform Groups like Scouts, Girl Guides (Guide and Ranger Sections), St. John Ambulance Brigade Youth Command;
.Service Groups like Community Youth Club, the Social Service Group and Elder Academy;
B. Four Houses - Isaiah, Moses, Samuel and Caleb - are established to further develop students' sense of belonging. Activities like debate, sports and cheering competitions are organized.


C. Inter-class activities are held to boost class spirit, including the School Picnic, Bulletin Board Design Competitions and various sports competitions.


Students have active participation and outstanding performance in Mathematics, sports, Music and Speech Festival competitions. They also take up different leading roles in the Student Association, House Committees, Prefect Team, Guidance Leaders Team, Library Committee, Careers Ambassadors, English Ambassadors and Joint-school Form Committees.



Life Education
The Life Education curriculum is a six-year course specially designed for nurturing holistic development in students. Conducted by form teachers and professionals in related fields, the curriculum helps to inculcate proper moral and spiritual values, cultivate a positive personal outlook and enhance students' physical and mental strengths. The provision of widened exposure to various learning experiences and chances to reach out to the community and the world also helps prepare students to be all-rounded citizens.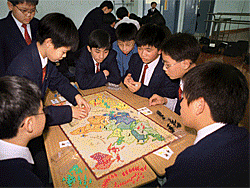 Studies in Social Milieu
In today's ever-changing society, youngsters need to have an awareness and knowledge of social affairs. In "Studies in Social Milieu", we aim to enhance students' understanding and attitude towards the social phenomena around them and to help them cultivate personal values and an international outlook. Class discussions and social surveys are conducted in this group to critically examine and provide opportunities to comment on our society. At the same time, students can exercise high-order thinking skills and practice various self-learning skills within authentic social contexts, preparing them for the Liberal Studies in the New Senior Secondary curriculum.



School Facilities
All classrooms and special rooms are installed with computers, overhead projectors, visualizers and air-conditioners. There are additional facilities like the English Centre and iMac Computer Room to assist effective teaching and learning.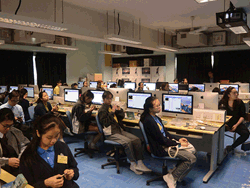 FirstClass, a popular intranet system in American schools, has been installed as a network for internal communication. Each student is assigned an account through which information can be exchanged more reliably and efficiently. This service is also extended to interested parents.